Safety

Skiing, snowboarding and other activities that take place at ski areas involve the risk of injury. The information contained in the Safety and Risk Awareness section of this website is intended to inform you of the risks, dangers and hazards that you may encounter at a ski area and help you to stay safe while enjoying these activities. Whether you are a participant in these activities or a parent or guardian of a minor participant, please take the time to familiarize yourself with the Safety and Risk Awareness information on this website.


EXCLUSION OF LIABILITY

The use of ski area premises and facilities and participation in activities at ski areas involves various risks, dangers and hazards. It is a condition of your use of the premises and facilities and your participation in these activities that you assume all risk of personal injury, death or property loss resulting from any cause whatsoever, including negligence, breach of contract, or breach of any duty of care on the part of the ski area operator. Your legal responsibility as a user of the ski area premises and facilities or participant in activities at the ski area is explained in the following notice, which you will see posted at the ski area.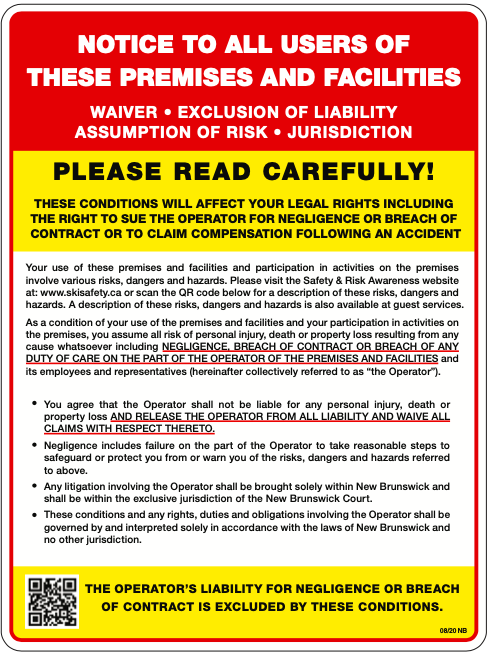 SKIING AND SNOWBOARDING
Skiing, snowboarding, and cross country skiing (nordic) involves various risks, dangers and hazards including, but not limited to the following:
boarding, riding and disembarking ski lifts;
changing weather conditions;
avalanches;
exposed rock, earth, ice, and other natural objects;
trees, tree wells, tree stumps and forest deadfall;
the condition of snow or ice on or beneath the surface;
variations in the terrain which may create blind spots or areas of reduced visibility;
variations in the surface or sub-surface, including changes due to man-made or artificial snow;
variable and difficult conditions;
streams, creeks, and exposed holes in the snow pack above streams or creeks;
cliffs; crevasses;
snowcat roads, road-banks or cut-banks;
collision with lift towers, fences, snow making equipment, snow grooming equipment, snowcats, snowmobiles or other vehicles, equipment or structures;
encounters with domestic and wild animals including dogs and bears;
collision with other persons;
loss of balance or control; slips, trips and falls;
accidents during snow school lessons;
negligent first aid;
failure to act safely or within one's own ability or to stay within designated areas;
negligence of other persons; and NEGLIGENCE ON THE PART OF THE OPERATOR.


RESPONSIBILITY CODE
There are elements of risk that common sense and personal awareness can help reduce. Regardless of how you decide to use the slopes, always show courtesy to others. Please adhere to the code listed below and share with others the responsibility for a safe outdoor experience.
ALPINE CODE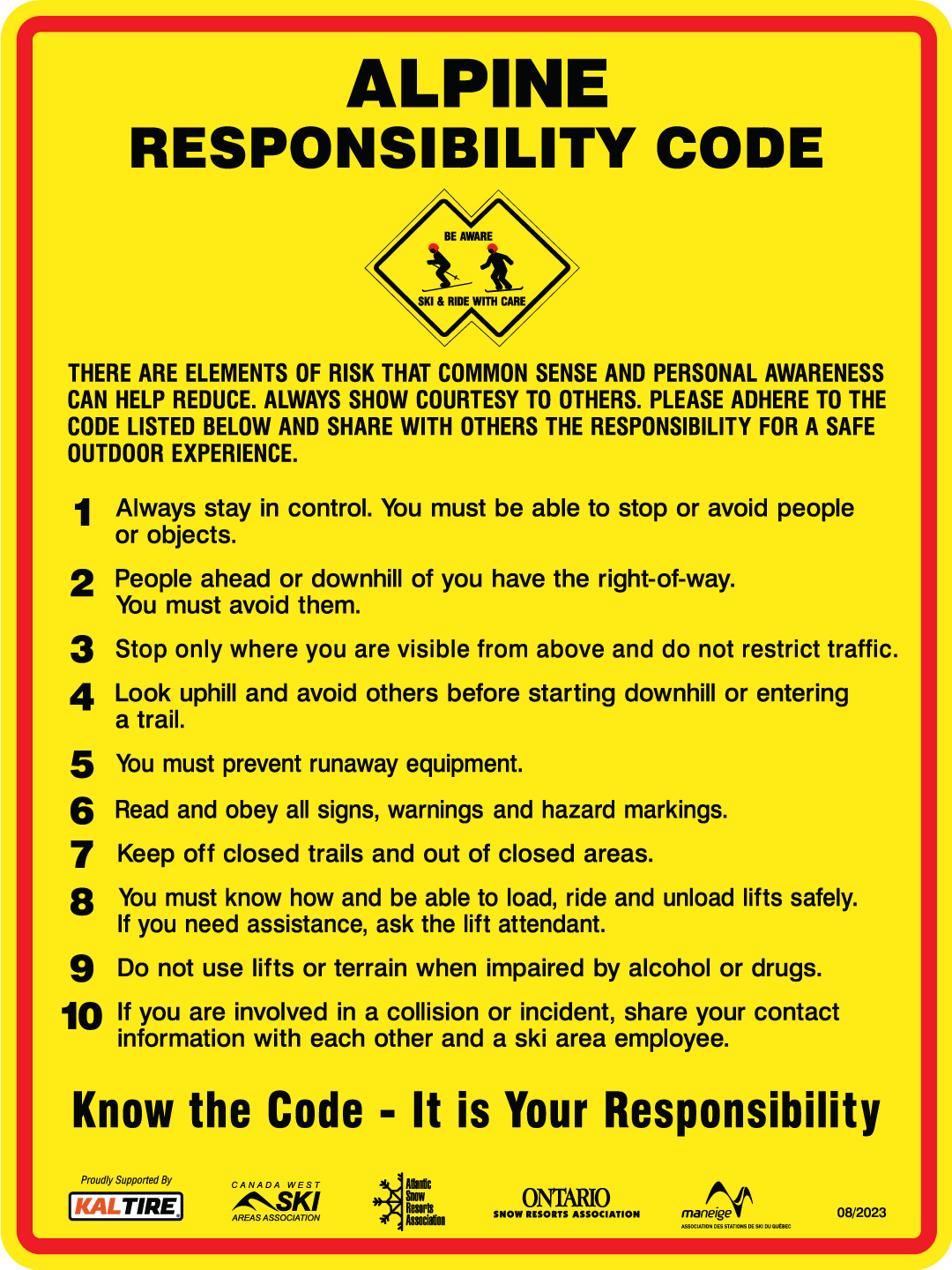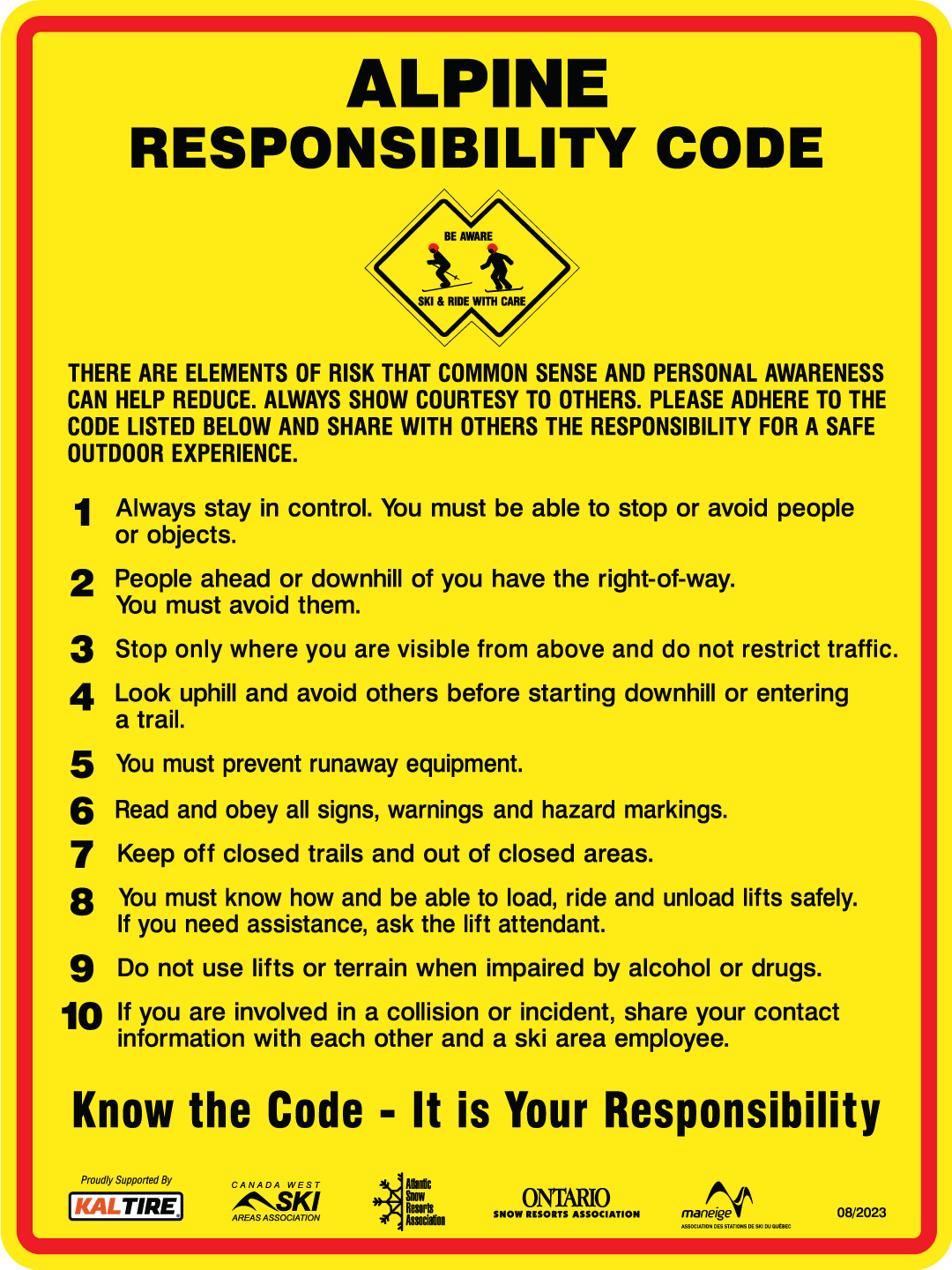 TRAIL SIGNAGE
Trail Difficulty
Circles, squares and diamonds: Understanding trail designations
These symbols represent a ski resort trail designation system that categorizes ski and snowboard slopes by difficulty. Resorts throughout North America (and much of the world) use green circles, blue squares and black diamonds to indicate difficulty. Nordic trail systems also often use these symbols. Each resort ranks it's own trails based on the relative difficulty of their specific area. Normally about 25 percent of the trails are designated green, 50 percent blue, and 25 percent black.
Freestyle Terrain
Freestyle Terrain has four levels of progression and designation for size. Start small and work your way up. It is your responsibility to familiarize yourself with the terrain before attempting any of the procedures.


Mountain Policies
Crabbe Mountain has an open boundary policy. Skiing and snowboarding is permitted anywhere on our property as long as the rider leaves on an open trail, does not cross a closed trail and returns via an open trail. Exceptions include the snowmobile trail, power lines and T-bar line, and skiing in the woods at night.
Whenever riding in glades (off-piste, treed areas) everyone should always ride in groups of 3 (less than 3 should never be).
Winter Sports Safety Guide
Check out the Holidaysafe- Winter Safety Guide to learn more about choosing the right helmet, how to stay safe on the slopes, skiing with children, guides to the signage, and much more. 
Ski Patrol
The Crabbe Mountain ski patrol, both paid and volunteer, work throughout the season to help ensure the safety of the slopes.
Every patroller is trained in first aid and CPR annually through the Canadian Ski Patrol System and undergoes on-hill training in areas such as lift evacuation, and toboggan training. The main Ski Patrol clinic is located at 102 Crabbe Mountain Rd, which is near the top of the mountain, at the top of Hume's Flume ski trail.
Contact information: (506) 463-8311 x231
info@crabbemountain.com 
For information on the Canadian Ski Patrol System Atlantic West Division click here.
Ticket/pass warning and removal program

To help maintain courteous skiing/ boarding at the resort, certain Crabbe Mountain personnel, ski patrollers, lift operators and all managers have been given the authority to warn skiers/boarders, and if necessary, remove their lift tickets or Season Passes for the following reasons:
Reckless skiing/snowboarding, and not remaining in control.
Skiing/snowboarding on closed trails or on trails that are not lit during night.
Bouncing the chair or skiing/snowboarding out of the tracks on our T-bar.
Skiing/snowboarding while impaired (alcohol or drugs).
Abusive language, gestures or similar actions (swearing or cursing) towards other customers or staff.
Not wearing a helmet in the Terrain Park or on Freestyle features.
Attempting inverted aerials.
Theft of services (tickets or property). Not purchasing a lift ticket, sharing tickets or lending of a Season Pass to another person are fraudulent and those doing so will be reported to the RCMP and possibly charged.
Jumping off the chairlift before the unloading area.
Penalties
1st Violation:
Day skiers/snowboarders will have their tickets marked or removed. Season Pass holders will have their passes marked or removed for a minimum or 24 hours.
2nd Violation or Violation of #7:
Season Pass holders will lose their pass for a minimum of 7 days. Day ticket holders will not be allowed back on mountain for 7 days.
Further Violations or Violations of #8 or #9:
Season pass will be revoked without a refund and day pass holders will be banned from mountain for 1 season.
Ski Insure
Ski-Insure offers protection for your investment in a season pass. For just $35 including taxes you can insure your pass will be deferred/refunded (pro-rated) if you are unable to ski by reason of injury, illness or unexpected job relocation. Coverage begins when you purchase your pass. 

If you would like to help improve our glade system, why not volunteer for one of our glade thinning days in the fall. Check www.crabbemountain.com each fall.
Lift Safety
Video by Canadian Ski Council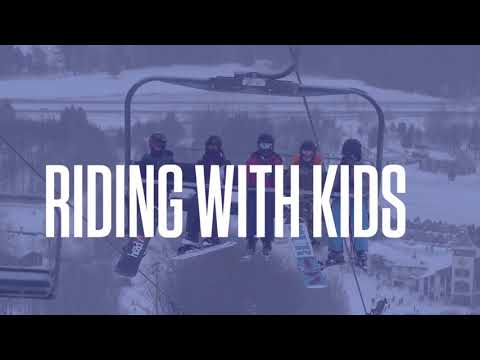 Drone / Quadcopter Policy


All requests to operate Drones on Ski Crabbe Mountain premises are required to go through marketing@crabbemountain.com or contact them at 506 463-8311. Once a request has been received, you will be contacted by a Mountain Manager for the proposed flight plan. If it makes sense, then all relevant impacted departments will be contacted to further discuss the flight.
If the decision is to allow the flight to take place, Management will send out an email to outline the scope of the flight, location, time and contact info of operator to Patrol, Mountain Safety, Lift Ops, Validation and both Alpine and Emergency dispatch.
Any persons found flying a drone on our premises without prior authorization will be asked to cease operations and leave the ski area with their drone.